Setili & Associates provides executive coaching and strategic consulting to Fortune 500 and growing companies, to improve business performance and personal fulfillment.
Executive Coaching
At the top of major organizations, even a small positive change in an individual's behavior can have a large impact.
Our executive coaching clients are high performers. They've been very successful, but know that one or two behaviors may be holding them back. My mission as an executive coach is to help successful leaders achieve positive, long-term, measurable improvements in behavior and effectiveness.
To do this, we enlist the executive's stakeholders —the people who are most impacted by their behavior–to provide regular feedback and suggestions.
Stakeholder Centered Coaching®  brings about a lasting improvement in leadership effectiveness for the person being coached, plus, there is huge side benefit, in that it improves the leadership skills and behaviors of all the stakeholders
As each stakeholder observes the leader's behavior and its impact on others, and as they think about what feedforward would be most helpful each month, they reflect on their own behavior and development goals.
They learn how to give and receive suggestions in a supportive, honest, and non-judgmental way. They learn to let go of the past and focus on the future.
When the process works at its best, the leader who is being coached asks his stakeholders to pick something that they themselves would like to improve. That way, the process is "two way" instead of "one way." The stakeholders act as "fellow travelers" who are trying to improve, not as judges who are pointing their fingers at the person I'm coaching.
Both stakeholders and the person being coached gain the skills to seek and receive "feedforward" from others. As these skills spread organically, the organization gains immense value.
Consulting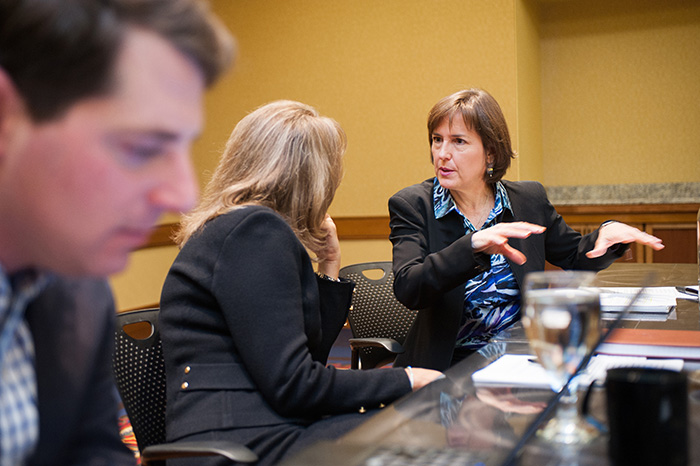 We help leaders agree on what needs to change and how to make it happen.
Companies call us when they have one of two situations:
They have a tough, ambiguous strategic problem that crosses several functions
They have an ambitious goal, and want to move on it faster
We harness the knowledge inside the organization while bringing a fresh, objective view of what's possible. Amanda's superpower is working across the organization to resolve hurdles and resistance, build new capabilities, and create commitment to the new direction. The end result is not only profitable growth, but renewed enthusiasm and teamwork.
Advisory
Many of our clients don't have a major project in mind when they call us. Instead, they simply would like ongoing advice as to how to improve their business's performance.
Sometimes they have just set a new strategic course, and would like our guidance as they execute. Or, they may have just put a new organizational structure or processes in place, and would like help optimizing how the organization works together. Or, they may have ambitious goals for growth and transformation, and want to move faster to achieve these.
Amanda's broad experience in many industries and functions, including operations, sales and marketing, and innovation, make her an outstanding partner to senior executives who would like an outside perspective and expert advice as they work through a variety of problems and opportunities. We work on a confidential basis, and can play either a behind-the-scenes or visible role.
Within an advisory relationship, we can serve as a sounding board and advisor on a regularly-scheduled basis, or can respond on-demand—usually within a couple of hours—when you encounter situations such as the following:
A gap in organizational capability that you would like to close
An isolated surge of growth that you would like to replicate throughout all regions
Difficulty surmounting an impasse on an important decision
A surprising competitive development
A key employee who isn't performing as expected
A set-back in implementing an important strategy
A desire to improve internal operations
A need for new, innovative ideas related to internal operations, or to market-facing products and services
An unexpected win that you would like exploit
A challenging new goal
An ambiguous strategic problem, that you're not sure how to address
Small Business Growth
Small business coaching
Small-business owners seek an expert advisor at key decision points, or when they're ready to take their businesses to the next level. Whether you are starting a new business or have operated successfully for years, our expertise and perspective can help you…
Set business and personal goals that motivate and guide both you and your employees.
Make critical decisions about pricing, distribution channels and marketing investments.
Assemble, manage and motivate a high-performing team.
Attract the right funding sources.
Circumvent roadblocks and make appropriate changes in strategy as market, competitive and technological changes occur.
Make sound decisions about selling your business when the time comes.
Coaching for consultants
Consultants and other professional service providers often seek our advice on how to grow their practices and provide more value to clients. Setili & Associates Private Coaching Program was designed to address this need and to share what we have learned over many years of serving some of the world's best and largest companies.
For a limited number of qualified consultants and professional service providers, we offer coaching to help you more easily…
Attract clients you love working with
Work more efficiently and effectively, while avoiding common missteps and mistakes.
Achieve greater and longer-lasting client results.
For consultants, we offer 3 Options for Your Participation
Workshops
Fearless Growth®
Are you ready to grow fearlessly?
We help world-class organizations to achieve lasting performance improvement through Fearless Growth®
Call us to discuss a custom-designed Fearless Growth® workshop for your organization. Participants will learn how to:
Embrace Uncertainty
Get in Sync with Customers
Partner, Borrow and Share
Connect and Strengthen Their Ecosystem
Open the Floodgates of Employee Creativity
Learn Fast and Fearlessly
Build Trust into Everything They Do
Fearless Growth® Interview
Speaking
Amanda is available for speaking engagements, workshops, and other growth experiences. Past topics have included:
Fearless Growth®, How to Aim Higher, Innovate Faster, and Achieve Unstoppable Growth
Becoming More Agile: Useful Practices for Volatile Times
Acting with Strategic Agility®  When the Stakes Are High
Out with the Old Rules, In With The New – How You Can Adopt a Fresh New Approach to Business Innovation and Growth
The Agile Organization: How to Open the Floodgates of Employee Creativity, Capitalize on Uncertainty, and Adapt Fast to Market Change
Leadership in A Fast Changing World
Your Agility – Break Out of Ruts, Take Charge of Your Growth Path, and Turn Turmoil into Opportunity
Insight Address: "The Agility Advantage"
If you'd like to explore how we can help your organization, please call or reach out via the form below.
We'll get right back to you!